Records / Awards / Scholarships


Record Books

Butler Co. 4-H Club Summary
Club Summary Instructions
Club Summary
Achievement Pin Detail and Description

#1 Membership and #2 Bronze
Pin 1 and 2 Instructions and Guidelines
Pin 1 and 2 (Pdf) (Word/Form) (Word/Print Only)

#3 Clover, #4 Emerald, #5 Silver and #6 Silver Guard
Pin 3, 4, 5 and 6 Instructions and Guidelines
Pin 3, 4, 5 and 6 (Pdf) (Word/Form) (Word/Print Only)


#7 Leadership, #8 Gold and #9 Gold Guard
Pin 7, 8 and 9 Instructions and Guidelines
Pin 7, 8 and 9 (Pdf) (Word/Form) (Word/Print Only)

#10 Year Pin
10 Year Pin Instructions and Guidelines
10 Year Pin (Pdf) (Word/Form) (Word/Print Only)
KAP - Kansas Award Portfolio
A Permanent Record is Required to be Submitted with a KAP for County Judging.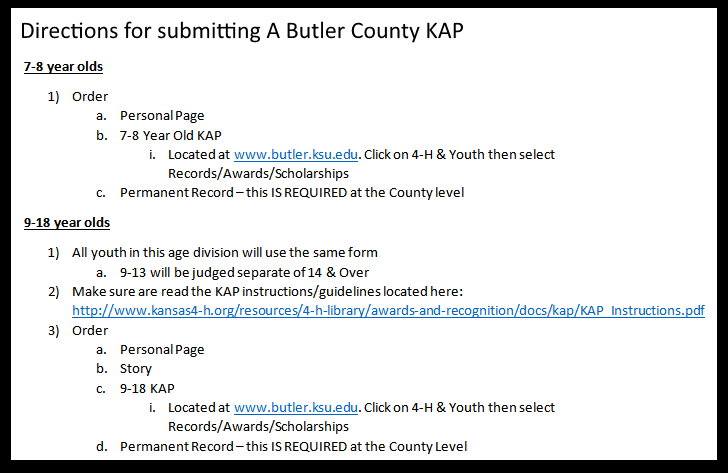 KAP Instructions
KAP - Questions and Answers
KAP - Evalutation Form
KAP 7-8 Yr Olds (Word) (Print)
KAP 9-18 Yr Olds (Word) (Print)


4-H Event Scholarship
Discovery Days, CIA, KYLF, etc.
Event Scholarship Guidelines
Event Scholarship (Word/Form)


Butler County Special Award Application
"I Dare You" Award, Kiwanis 4-H Junior Leader Award,
Service to Community and 4-H Award and Dr. Johnson
Outstanding 4-Her Award.
Special Award Guidelines
Special Award (Word) (Print)
Key Award Guidelines
Key Award (Word) (Print)


Butler County Scholarships
Butler Community College / E. W. Nath 4-H
Butler County Scholarship Guidelines
Butler County Scholarship (Word) (Print)
State 4-H Scholarship
2018 Kansas 4-H Scholarship Application
Youth who should be applying for this scholarship should be in their Senior year in High School or older.